PENGARUH LATIHAN KELENTUKAN TERHADAP HASIL TENDANGAN DOLLYO CHAGI PADA ATLET TAEKWONDO
Aldho Falta Cifero

UNIVERSITAS NEGERI PADANG

Ronni Yenes

Padang State Unversity

Vega Soniawan

Padang State Unversity

Yogi Setiawan

Padang State Unversity
Keywords:
Flexibility Training Dollyo Chagi Kick
Abstract
The problem in this study is the alleged lack of maximum dollyo chagi kick ability in athletes. This research aims to find out how much flexibility exercise affects the results of Dollyo Chagi Taekwondo Athlete Dojang Lebong kicks.This type of research is pseudo-experimental research, conducted against the kick dollyo chagiatlet taekwondo Dojang Lebong. The population in this study was taekwondo athlete Dojang Lebong who numbered 55 people. The research sample was taekwondo athlete Dojang Lebong as many as 8 people, with proposivesampling technique. The test instruments used in this study were dollyo chagi kick tests, while statistical data analysis techniques used normality tests, data homogeneity tests and t-tests with a significant level of 0.05.The results of the study,there is an effect of flexibility exercise on the kick dollyo chagi taekwondo athlete dojang lebong obtained that t hitung = 3.64>t tabel = 1.89.then the average pre test value= 13.88 and the average post test value t= 16.25, because the average post test value is greater than the average pre test value then there is an increase in dollyo chagi kick capability= 2.38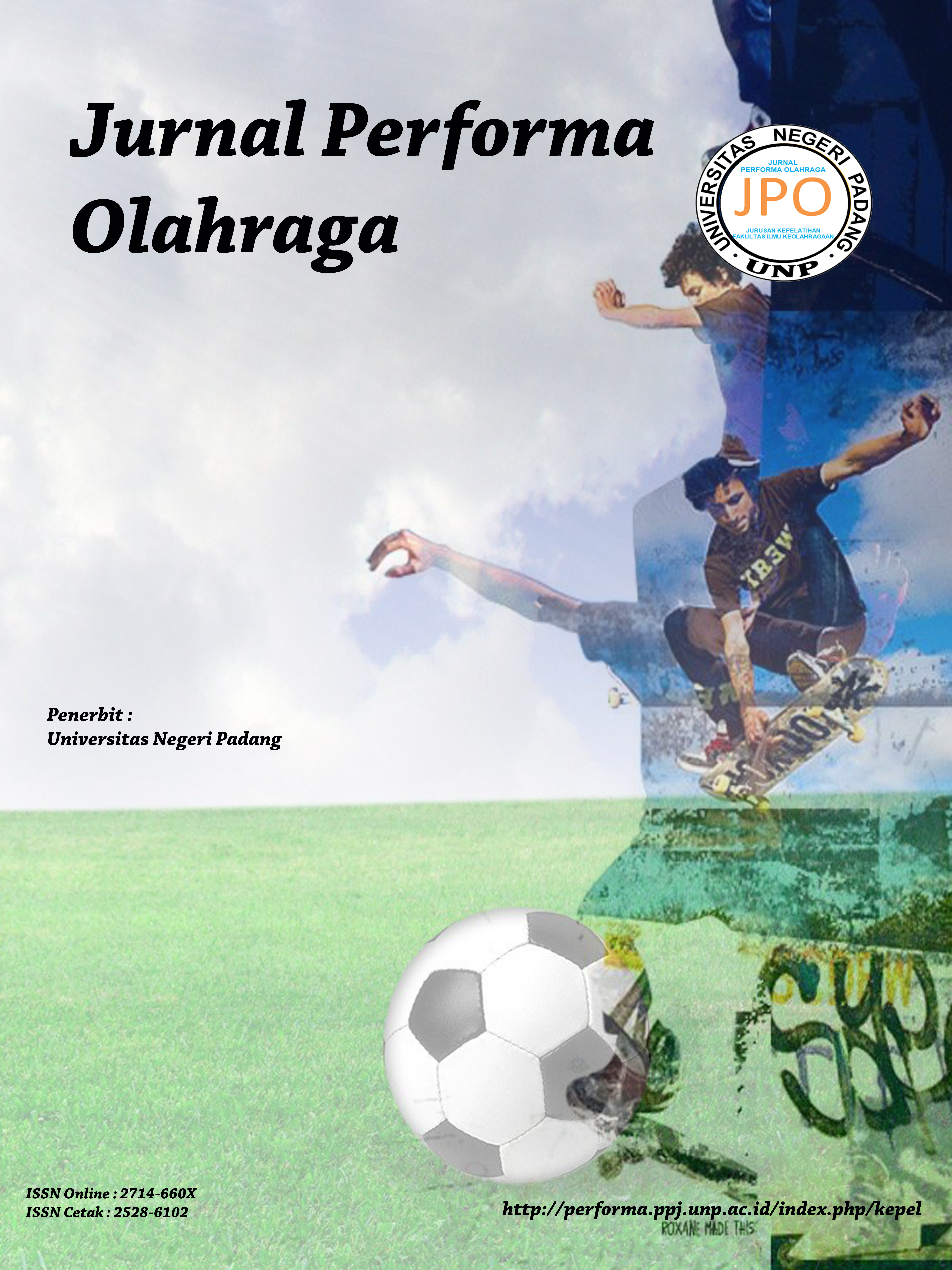 How to Cite
Cifero, A., Yenes, R., Soniawan, V., & Setiawan, Y. (2021). PENGARUH LATIHAN KELENTUKAN TERHADAP HASIL TENDANGAN DOLLYO CHAGI PADA ATLET TAEKWONDO. Jurnal Performa Olahraga, 5(2), 91-96. https://doi.org/10.24036/jpo149019
Copyright (c) 2021 Aldho Falta Cifero, Ronni Yenes, Vega Soniawan, Yogi Setiawan
This work is licensed under a Creative Commons Attribution-NonCommercial-ShareAlike 4.0 International License.

Jurnal Performa Olahraga menggunakan Atribusi-NonKomersial-BerbagiSerupa CC BY-NC-SA